As the heaters hum and beanies emerge from the depths of the sock drawer, it's that time of year again. Taking care of yourself during the long winter days is paramount. With colds, viruses, and increased indoor time, prioritising your health and wellness becomes essential during the colder months. And let's not forget the significance of maintaining a healthy spine!
A healthy spine is vital for the body's movement, functionality, and overall wellbeing. Not to mention, neglecting spinal health can lead to chronic pain, fatigue, limited mobility, and even compromised nerve strength and sensitivity. Your spine acts as the central support column, diligently safeguarding your spinal cord. Hence, it's crucial to provide your spine with the extra care it deserves during the winter season. One excellent way to achieve this is by incorporating the daily stretches from our ACA 'Straighten Up' app. These stretches are designed to nurture your spine, ensuring it remains in optimal condition throughout the colder months. So, let's make this winter a season of mindful spine care and practice some much-needed daily stretching.
Developed specifically by ACA chiropractors, the Straighten Up app features a highly popular 3-minute exercise program designed to improve spinal health, strengthen core muscles, and boost overall wellbeing. With its user-friendly interface and simplicity, this app is a must-have for anyone seeking to release stiffness and tension accumulated from a stressful day's work. The exercise program, accompanied by interactive animations, offers gentle guidance through each stretch, ensuring proper form and technique. Moreover, the animations can be rotated from all angles, granting users the freedom to select specific stretches by effortlessly swiping left or right on the menu.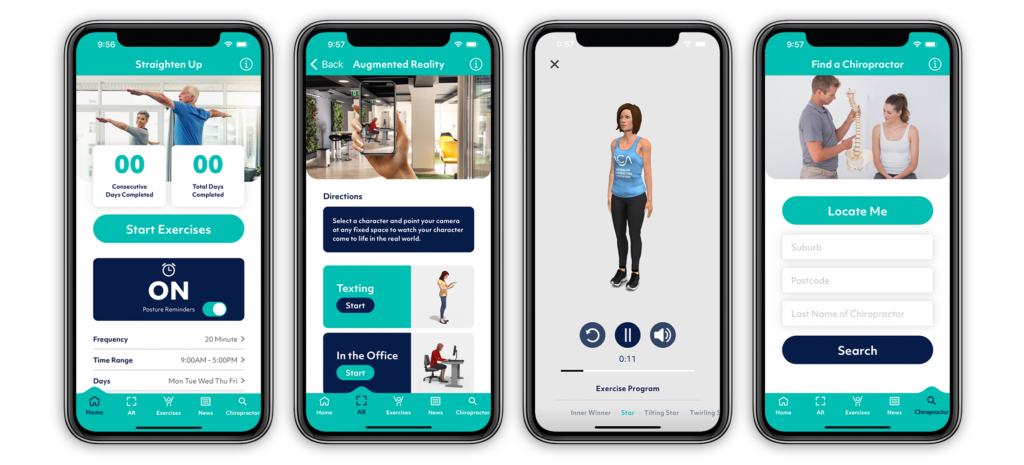 To further elevate your experience, the app includes a convenient dashboard feature that allows you to track and record the consecutive days you complete the 3-minute exercise program. This not only encourages the formation of positive daily habits this winter – but also provides the motivation to watch those numbers steadily increase! With the Straighten Up app by your side, you can cultivate a routine of daily self-care throughout the colder months.
Not to mention, one of the best features of the Straighten Up app is the updated augmented reality (AR) function. By exploring the AR section, users gain a firsthand, immersive experience of both good and bad posture in various everyday scenarios, such as texting, sleeping, or sitting at a work desk.
This AR function serves as an invaluable tool for identifying areas where you may be unintentionally compromising your spinal health. It's not only informative but also a fun and engaging way to involve the kids during the winter holidays and showcase how posture can be affected in different situations.
Using the AR feature is a breeze. Simply point your camera at any flat surface, and witness the AR character spring to life, providing you with real-time insights. This interactive technology brings a whole new dimension to your journey toward better posture and spinal health.
So, discover the impact of better posture this winter and engage the whole family. Embrace the power of augmented reality and take charge of your posture today by downloading the Straighten Up app! Don't forget the best way to look after your spinal health is to visit an ACA chiropractor. ACA chiropractors are at the forefront of spinal excellence and healthcare. To find your local ACA chiropractor, visit our 'Find a Chiro' search engine www.chiro.org.au/find-a-chiropractor