About Workspace Week
Workspace Week is an initiative of the Australian Chiropractors Association dedicated to improving the health and wellbeing of Australians by educating them about how to Work Well from Anywhere.
After several lockdowns from COVID-19 and two years spent working from home – working in hybrid settings such as a combination of working from home and in the office has certainly become the norm. Never in the history of modern work have working professionals had the opportunity to have such a fluid opportunity to work anywhere from cafes, parks, and libraries to the beach or even on holidays.
The Australian government announced back in August 2021 that up to two-thirds of Australians are now working from home. However, a study also completed by Australian Unions found that a staggering 42% of Australians working from home do not have a suitable workstation or even the correct equipment when working from home1. This means although Australians are working more fluidly, with a better work-life balance, almost half are working in settings that are not set up properly, posing potentially serious health risks.
Workspace Week both reinforces and reminds Australians about the importance of ergonomic considerations for setting up their workspace at home, or anywhere, to encourage Australians to create ergonomic and safe work environments. The aim is to foster positive spinal health habits so everyone can Work Well from Anywhere to feel great, improve productivity and overall wellbeing.
Supporters Registration Page
In 2022, more Australians are working from home than ever before. New data is revealing an alarming number of Australians are potentially putting their health at risk due to home workspaces not being set up correctly.
Workspace Week aims to improve the health and wellbeing of Australians by educating them about the importance of an ergonomic workspace and postural correctness when working at home or in any other location, so they can work well from anywhere.
By registering your support and participation, we will issue you with digital Workspace Week resources. By working together, we can help educate Australians to 'Work Well From Anywhere'!
ACA members can click here to access their Workspace Week member resources.
Register Your Support Now
Checklist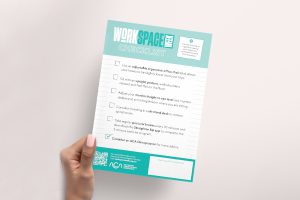 As part of  Workspace Week (22 – 28 August), ACA has produced a 'Workspace Week Checklist' to help guide Australians on how to set up a safe and effective ergonomic workspace right in the comfort of their own home.
Significant research has now shown that there is an association between poor workstation setup with upper extremity body region pain and discomfort – which increases an individual's risk of suffering from musculoskeletal disorders including neck and back pain2.
Therefore, setting up a safe, comfortable, and ergonomic workspace is so important – especially when we spend so much of the day seated when working.
Follow this checklist for simple and effective techniques to get your workplace settings in tip-top shape right from the get-go!
Ergonomic Chair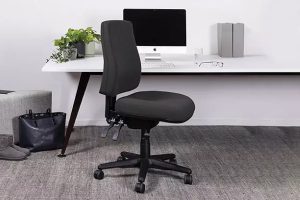 When working from home it's important to work using an ergonomic chair rather than just a normal chair. Unlike a normal chair, an ergonomic chair supports the spine, lower back, and pelvis and promotes good posture. An ergonomic chair also allows you to adjust the seat height, seat width, and depth.
One of the most important elements of an ergonomic chair is that it offers lower back support through its lumbar adjustment. This lumbar adjustment is crucial to supporting the inward curve of the lower back. This is because sitting for long periods of time without proper support (for this section of your back) can not only lead to slouching – but also strains the vertebrae in the lower part of the spine3.
Your ergonomic office chair should allow you to have your elbows level (to the height of the work surface) with your shoulders and forearms relaxed when working at your computer or laptop.
If you cannot reach the floor, use a footrest for added support4.

Posture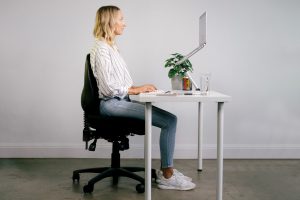 Adopting a safe and correct sitting position when working is vital to maintaining a good posture and a healthy back and spine. Sitting in incorrect positions can cause misuse or even overuse of specific muscles, ligaments, and tendons and can adversely impact your postural health5.
This is why it's important to sit with an upright posture, with your shoulders relaxed and your feet flat on the floor.
It may feel good to slouch slightly as the day progresses, however, hunching can cause the muscles in your chest to contract and shorten, which contributes to not only a stiff neck- but a stiff back as well6.

Knee & Hip Position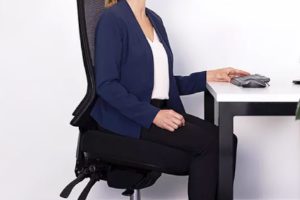 When you're sitting at your desk, it's important to adjust your chair so that it allows your knees to be slightly lower than your hips! This is because if you sit in a chair that's too low, forcing your knees above your hip – that can place a lot of unwanted pressure, weight, and stress on your spine and the lower part of your pelvis7.
Similarly, a chair that is adjusted too high can lead to increased pressure on your knees and decreased blood circulation8, 9.
So while working throughout the day, take a moment to check your knees and hips are positioned correctly.

Computer Set Up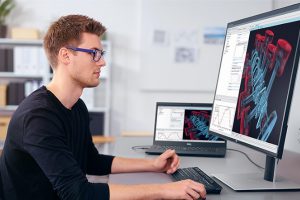 When working from home or any other location, it is important to adjust your monitor or laptop screen to the correct height to avoid placing unwanted strain on your neck. If you tilt your head too far up or too far down, this can place a lot of extra stress on your neck and result in neck pain over time. Your monitor (or laptop screen) should be placed directly in front of you. If you have two monitors, position yourself between them whilst working.
The most important point to remember is to have your monitor height (or laptop screen) at eye level and approximately one arm's length away from you10. If you need to adjust your monitor or laptop height you can use any solid object, with a wide enough base to prop up your laptop. So, get creative! You can even have several books piled up on top of each other.
When you are working, your keyboard and mouse should be on the same level, also directly in front of you, and positioned at least 10 to 15cms away from the edge of the work surface – to allow for good forearm support when operating the computer or laptop.
You also want to place your mouse parallel to your keyboard, with your elbows bent at around 90 –100 degrees. Also, try to keep both your arms close to your body to avoid unnecessary neck and shoulder pain11.

Standing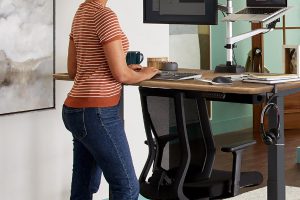 Standing desks offer a flexible and healthy alternative to the traditional sitting all-day desk setup. Standing desks also allow you the opportunity to alternate between sitting and standing throughout the day12. There are two common types of sit-to-stand workstations, the first being a whole desk unit that is manually, or power-operated to adjust to the preferred height.
The second option is a modular type of desktop unit that sits on top of one's desk and is usually adjusted manually or with a set of lever locks. Although you can purchase custom-built standing desks, you can also convert a regular desk into a standing desk at no cost by elevating your computer.
Not only does the stand-up desk mitigate extended periods of sedentary sitting, but it also increases metabolic function, decreases blood pressure, and provides lower back pain relief13. Not to mention, a stand-up desk also provides greater musculoskeletal comfort14. Finally, standing desks have also been shown to improve productivity and mental focus – so get standing!

Breaks & Stretching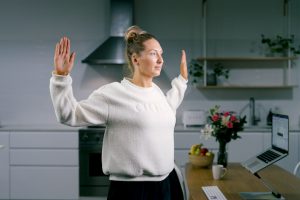 Sitting for long periods of time can be harmful to your spinal health, so make a conscious effort to take breaks by scheduling in mini-breaks every 30 minutes to keep your body moving throughout the day.
Taking regular breaks allows you to reset, recharge and refresh! Sitting for hours a day places a lot of stress on the natural curvature of the spine. So, if your back starts to feel tight and uncomfortable from sitting, completing a few stretches will help to relieve any build-up of pressure and tension on the spine. Stretching also promotes increased blood circulation and acts as a great form of stress release.

Straighten Up App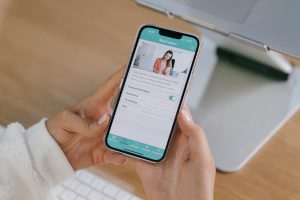 While your chiropractor can't be there 24/7 correcting your posture, the Straighten Up app can! Designed to act as 'Your Pocket Chiropractor', this app aims to address the growing posture issues and back pain problems faced by Australians.
Some of the features of the app include setting reminders to receive notifications about sitting right, stretching, taking breaks and improving your posture. The app also includes a 3-minute exercise program designed to improve spinal health, stabilise core muscle groups and more. The app also shows a list of local ACA chiropractors to help you find a chiropractor near you.
Download the NEW Straighten Up app today.


Consider a Chiro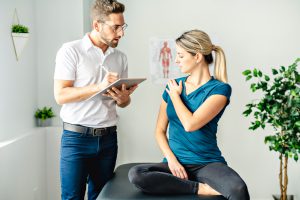 This Workspace Week (22-28 August), we are encouraging all Australians to maintain healthy spinal habits within their workspace (wherever that may be!). Your local ACA chiropractor can provide you with great ergonomic tips and tricks for setting up a workspace from anywhere, anytime.
They can also provide you with appropriate and tailored care for new or existing spinal health conditions. Even with a great ergonomic setup there are added benefits in consulting your local ACA Chiropractor.
Chiropractors are able to provide postural advice as well as the best exercises to improve your health and overall wellbeing. Chiropractors work in partnership with their patients to provide appropriate, tailored care as well as provide lifestyle and wellbeing advice. So, remember to Consider a Chiro, this Workspace Week!
To find an ACA chiropractor, click here.


For a full set of references, click here.
Media Contacts
For interviews with Australian Chiropractors Association representatives and case studies contact:
Media Contact:
Clare Collins | 0414 821 957 | [email protected]
Alice Collins  | 0414 686 091 | [email protected]