Australia's COVID-19 journey first began when a returned traveller from Wuhan tested positive to a novel coronavirus in Victoria, on 25 January 2020. Named COVID-19 on 11 February, the virus began slowly spreading throughout the community in early 2020. Members were encouraged to place a 'patient alert' poster at the entrance to their practice, screen patients for symptoms and travel history, and assess their infection control procedures.
It was in March 2020, that the gravity of a global pandemic was felt in Australia. We learnt 'social distancing' and restrictions were progressively brought in. Eventually, most non-essential facilities and services would be closed. The ACA assured members that health services, including chiropractic, were still able to operate, although some chiropractors made their own decision to temporarily close their doors.
The whole country went into lockdown on 30 March, with each state and territory determining the permitted reasons to leave home. ACA staff seamlessly transitioned to working from home, continuing to deliver the dedicated service we are known for by members and stakeholders.
ACA developed a COVID-19 portal to collate important information and alerts for members, helping to decipher public health orders and their implications for chiropractors. Since our first email to all members on 30 January 2020, to localised emails sent on 30 September 2021 – we've delivered a total of 318 COVID-19 emails. Additionally, our regional Facebook groups have also been an important tool to communicate local updates.
The initial lockdown didn't take long to achieve the goal of 'flattening the curve'. As case numbers continued to decline, states and territories began to ease restrictions. Since this time, experiences have varied around the country, as we've dealt with numerous outbreaks as well as the restrictions and lockdown measures which were then implemented to mitigate further outbreaks.
Working From Home
The central business district (CBD) has traditionally been a city's commercial heart. Whether it's Brisbane, Ballarat or Bunbury, workers make the daily commute from near and far into what is often known as 'the city'.
When Australia was first directed to 'stay at home' at the end of March 2020, many Australians suddenly found themselves working from home. Each bustling CBD became a ghost town overnight.
NSW member, Dr Aimee Mason, had just entered her second year of practice when the pandemic hit last year. Working as an associate at Vice President John de Voy's Sydney CBD practice, Aimee had built a substantial patient base through corporate presentations, leaving flyers at nearby cafes and offering spinal screenings at local gyms.
"During the initial lockdown last year, I saw an almost 80% drop in patients, which was tough. Even though accessing healthcare, including chiropractic care, was one of the reasons they could leave home, many were scared and not comfortable coming in at first," Aimee reflects.
As the COVID-19 pandemic unfolded rapidly, it was important for Aimee to have accurate information in order to practice in confidence.
"I was getting COVID-19 emails from every organisation I had ever connected with but made sure to only pay attention to the updates from the ACA, as that is the source I trust. The speed of communications was impressive, and I particularly appreciated the summary box for chiropractors."
Many of Aimee's patients are office workers and weren't ergonomically prepared for working from home. As her patient base slowly grew back with patients new and old, Aimee noticed common trends in patient presentations.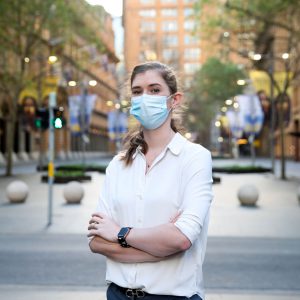 "I was doing a lot of thoracic and rib mobility work, as patients were increasingly experiencing more stress, postural strain and breathing issues. I started to notice how often I was writing 'working from home – upper back and neck pain' in my notes," Aimee remarks.
It was evident to Aimee that her patients weren't moving enough, lacking the incidental exercise that comes with working in an office environment. She encouraged them to download the Straighten Up app, in addition to investing in an ergonomic workspace at home – noticing patients' reluctance as they were hopeful they'd be back in the office soon.
Aimee continued building her patient base back up, targeting those who lived in or near the city, as CBD office workers largely remained working from home. Her busiest weeks in practice were May and June this year, until Sydney was plunged into its current lockdown.
"This lockdown didn't impact me as much, only seeing a 30 to 40% reduction in patients. The main concern for patients was the uncertainty around the city being deemed a "hotspot". Once patients did visit, they were impressed by our COVID-safe procedures."
Close Contact
During the pandemic, many of us came to understand and appreciate the role of contract tracers in managing outbreaks. Over the last 18 months, thousands of Australians have been instructed to isolate and get tested due to close contact with a confirmed COVID-19 case.
In August this year, Total Health Chiropractic in Torquay, Victoria was informed by a patient that they were a close contact. As the patient had visited the practice while potentially exposed, despite testing negative himself, those he interacted with at the practice would be deemed secondary close contacts. The Victorian Department of Health defines a secondary contact as 'someone who has had face-to-face contact with a primary close contact, at least 24 hours after them being exposed to COVID-19'.
Dr Alex Harvey is the owner of Total Health Chiropractic, comprising of nine practices across Victoria and Queensland. Having already weathered lockdowns and borders closures over the last 18 months, dealing with a close contact was a new challenge.
"I contacted the Department of Health to seek clarity and received eight different answers from eight different people," Alex states.
"The patient was tested a third time and ended up testing positive, making our practice a 'tier 1' exposure site with patients and staff now close contacts, a whole week after he had visited. We were instructed to shut the practice immediately, inform staff, provide appointment details and undertake a deep clean."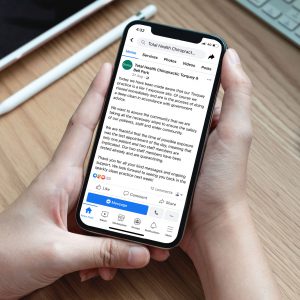 Fortunately, the positive case was the last patient on a Friday evening, so only two patients fell into this time frame. Heartbreakingly, one of the patients who was instructed to isolate was due to receive their first IVF treatment the following day. They were deemed a close contact despite only being in the practice a couple of minutes in the 6:00pm and 7:45pm time frame.
The chiropractor and chiropractic assistant working that evening, went into isolation and got tested. As it had been seven days since the positive case had visited, they only had to isolate for seven days as they were halfway through the incubation period. Neither tested positive.
"We were walked through the process of deep cleaning, being able to do it ourselves. We needed clearance from the Department of Health to reopen the practice, receiving this in time to open the following Monday."
Despite its close proximity to Melbourne, the coastal town of Torquay had avoided the outbreaks and lockdowns experienced by other parts of the state. As this was the first case in Torquay in over 12 months, Alex wanted to assure the tight knit coastal community by explaining the situation on Facebook.
"We received so many positive messages from patients and I also had Dr Anthony Coxon reach out. I've appreciated all the emails from ACA, as they have explained the rules associated with the pandemic."
Border Closure
Australia's border communities see themselves as one community spread across two cities (or towns). Whether a river, mountain range or simply a street that divides the two, many locals cross the border daily for work, education or leisure.
Dr Cate Andrews runs a practice in the rural town of Goondiwindi, Queensland but lives on a farm just over the border in New South Wales. The 25-minute commute to her practice would be the envy of many city dwellers, but her daily journey across the border, and the Macintyre River, has become increasingly precarious during the pandemic.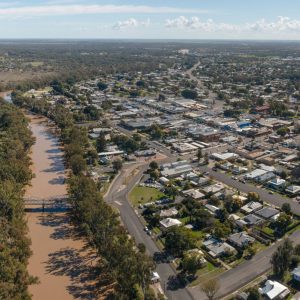 "When Queensland first shut their borders early last year, you simply needed an entry pass to be able to cross the border," Cate recalls.
"It become a hard border closure in August 2020, with only the residents of the postcodes touching the border allowed to cross. One morning, I was stopped at the border and denied entry, informed that my suburb doesn't touch the border. We just didn't make the cut."
Despite the fact that her family's farm is located in Boggabilla, one of the suburbs allowed to cross the border, their postal address lies in the neighbouring suburb of North Star, which was not included. Cate lobbied Gwydir Shire Council to change her postal address and was then able to cross the border once again.
Queensland eventually opened its border to New South Wales, but after months of unrestricted travel, the border was closed again in response to the Delta outbreak in Sydney. In August 2021 the border was tightened further, meaning that chiropractors in New South Wales would no longer be permitted to enter Queensland for work.
"I made the tough decision to temporarily relocate to Goondiwindi in order to continue practising, and also allow my children to continue attending their school on the Queensland side. It's been very challenging because my husband runs our farm, so he had to stay home and I was uncertain when I would see him next".
It's been a difficult season for the border community of Goondiwindi and Boggabilla. While only 11km apart, residents in both towns have faced uncertainty and confusion, despite the lack of cases in the area. Being a major transport nexus between Queensland and the southern states, there has been concern that the community would see cases emerge from truck drivers traveling through.
Residents in Boggabilla on the New South Wales side, have been harder hit by the border closure than their interstate neighbours. Being the smaller town, they heavily rely on the services in Goondiwindi, which is only a ten-minute drive away. It's an hour and a half to the nearest town on their side of the border.
"I have greatly valued the ACA's support. On my most frightened days, I was talking to (Regional Manager) Linda Smith a lot. She has been amazing and whoever replaces her will no doubt continue to offer the same invaluable support."
Public Health Directions
Western Australia was one of the first places in the world to eliminate community transmission of COVID-19 in April 2020. The success was attributed to the state's swift introduction of restrictions, geographic isolation and strict border policy.
As eastern states continued to stamp out community transmission, West Australians gradually had their restrictions eased. By June 2020, most restrictions had eased, and life was essentially back to normal. For West Australians, it was as if COVID-19 had never happened until a quarantine hotel security guard tested positive and the Perth, Peel and South West regions entered a snap lockdown in late January 2021.
Dr Beau Woods owns a group of seven practices and personally practices in the Perth suburbs of Armadale and Baldivis. In addition to his chiropractic studies at Murdoch University, Beau attained a Master of Public Health, providing him with additional perspective on the management of the global pandemic. He claims to be "into epidemiology before it was cool".
"When the lockdown was announced that Sunday evening, Premier Mark McGowan stated that accessing healthcare was one of the five reasons you could leave your home. Initially, it looked like we were good to continue practising throughout the lockdown," Beau reports.
"It was during the first day of lockdown that the ACA notified us that chiropractors were not able to operate under the Public Health Directions. It was frustrating, given that we were able to practice during last year's lockdown."
The Public Health Directions that had been published overnight did indeed classify chiropractors as 'essential health services', however precluded chiropractors from practising face-to-face, allowing telehealth only. The ACA acted immediately, raising concerns with the WA Health Minister's office and, as a member of Allied Health Professions Australia, contacting the WA Chief Allied Health Officer to raise the same concerns and seek clarification on related matters.
Perth and Peel entered another snap lockdown in April, and chiropractors were again unable to practice despite the advocacy work undertaken over the last two months. Ironically, the lockdown was announced the day after Regional Manager Shelly-Anne Cornell and Regional Committee Chair Dr Josh Tymms had a positive meeting with the acting Chief Allied Health Officer regarding future lockdown situations.
Following a third snap lockdown in late June, with again there were no provisions for face-to-face allied health, Beau and Josh decided to reach out to local MP, Reece Whitby. Reece is a Minister in the Western Australian Labor government, overseeing four portfolios including 'small business'.
"On 11 August, Josh and I attended Parliament House to meet with Reece. Our meeting focussed on the provision of chiropractic care as essential services providing more than telehealth only, if future lockdowns occur.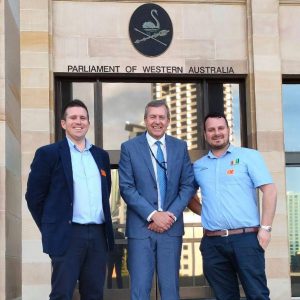 Our representation of the profession was well received. Whilst we were excluded from the $3,000 second Small Business Lockdown Grant, which perplexingly included dog groomers and cleaners, we weren't there for a handout. We made the case that our care keeps people out of hospitals, GP practices and off opioids. We at least want to keep our doors open for those who desperately need our help."
Last month, ACA received confirmation from the WA Department of Health after consideration by the Chief Health Officer (CHO), that he has approved additional wording to be included in future lockdown Directions, to allow for some face-to-face consultations for registered chiropractors under specified limitations.
"I've always believed that if you don't like something, don't complain – do something about it. You can't just throw rocks and go home. It's about contributing to the solution. Whilst the solution may not be perfect, at least contribute. When the opportunity to meet with Minister Whitby came up, I had a full afternoon of people that I couldn't see in order to be at Parliament House to advocate on behalf of both members and non-members. As AFL coach John Kennedy famously said, 'At least do something!'"
Living with COVID
After almost two years of navigating a global pandemic, Australia is moving towards 'living with COVID'. As set out in the National Plan to Transition Australia's COVID-19 Response, meeting vaccination targets will move Australia through the plan's four phases, to ultimately 'Manage COVID-19 consistent with public health management of other infectious diseases'.
Last month, the ACA sent correspondence to all federal, state and territory health ministers, indicating our support for the public health initiative of vaccination as an essential strategy in diminishing the burden of COVID-19.
However, the ACA is also of the view that informed personal choice is a fundamental component of best practice healthcare, and as such do not support mandating COVID-19 vaccinations for the chiropractic profession. For an example of the letter to federal, state and territory health ministers, view the letter to Minister for Health and Aged Care Greg Hunt at chiro.org.au/media
The ACA is here to support you and will continue to keep members updated. As always, if you have any questions or concerns our team is available to assist. We encourage all members to frequently monitor our COVID-19 Portal at members.chiro.org.au/covid-19