Webinar
Lower Limb Biomechanics and Rehabilitation
About
The next AICE Sports & Exercise webinar, titled Lower Limb Biomechanics and Rehabilitation will be held Wednesday 19 May 2021 and presented by physiotherapist Tom O'Halloran.
This webinar will introduce the key principles of lower limb biomechanics and strength and conditioning and explain how to progressively load the lower limb for injury rehab. Examples of exercise progressions will be given, including how to progress patients and athletes from early rehabilitation to later stage rehabilitation of power & plyometrics.
Registration closes 4:00pm AEST 19 May 2021.
Learning Outcomes
Participants will be:
introduced to key strength & conditioning principles such as Progressive Overload, SAID principle, Hypertrophy, Strength, Power, Rate of Force Development and Plyometrics;
introduced to key Biomechanical principles; including tendon function, lower extremity stiffness, the stretch-shortening cycle & how this relates to lower limb injury & rehabilitation;
given example progressions of exercises to progress from early stage rehab in a progressive and structured way through to later stage rehabilitation.
Speaker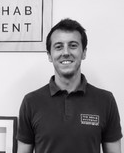 Tom O'Halloran
Tom O'Halloran is a physiotherapist with 12 years experience, including the last three years working as a contract physiotherapist with the Australian Defence Force.
In working with the Army Infantry Soldiers, Tom was exposed to countless lower limb injuries and developed a passion for rehabilitation of the lower limb.
Tom has since completed a Masters Degree in Strength & Conditioning and has worked within Deakin University's 3D Gait Lab – performing 3D Running Analysis Assessments.  He has recently started his own business – 'Mechanics of Movement' where he predominantly utilises a strength and conditioning/gym rehab approach to injury management.
Registration Cost
AICE Sports & Exercise Members: Free
ACA member:  $55.00
ACA students: Free
Non ACA members: $99.00
Registration closes 4:00pm AEST 19 May 2021.